Manny "Pacman" Pacquiao VS Ricky "Hitman" Hatton will finally get listed to one of the finest and historic boxing match of the world that will be staged at the MGM Grand, Las Vegas, Nevada, USA on May 2, 2009 (May 3, 2009 – 10am Manila time).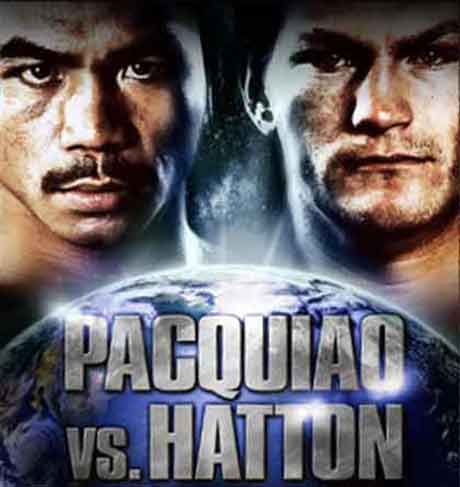 This is "The Battle of the East and West" where the World War is about to ignite as these boxing champs collide. This fight is by far the most anticipated and Ricky Hatton and Manny Pacquiao, the world's boxing icons' best fight to date.
The Pacquiao-Hatton Fight will go LIVE on air through Solar Sports' All Access, a pay-per-view service. HBO Sports Pay-Per-View service (USA) and TFC – The Filipino Channel of ABS-CBN subsidiary (Middle East) will also be offering Live Video Streaming. Solar Sports tie up with GMA Network for the delayed telecast of the fight on GMA7 on TV. The Pacman-Hitman fight television replays will also be on RPN – Solar Sports shared channel 9.
To Manny "Pacman" Pacquiao who holds by his heart both the Filipino heart and dream, Fight the Good Fight! We'll be backing you up! 😉