Quezon City is one of the places in Manila that was greatly affected by the typhoon 'Ondoy'. Many dwellers were hurt and some even died because of the calamity.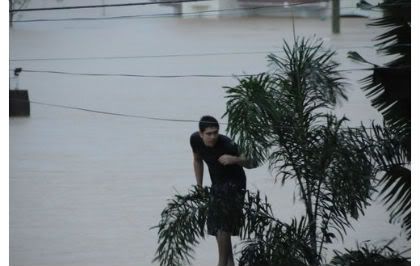 Gerald Anderson who happens to be living in Quezon City became a sudden hero during the outrage of typhoon 'Ondoy' last Saturday. Gerald's neighbor who was trapped helplessly on a roof was saved by the 'Tayong Dalawa' heart throb, mindless of the terrifying chest-deep flood.
Gerald's heroism gained praises and recognition from the ABS-CBN management. The young star also gained admiration from fans who were inspired and touched with Gerald's bravery.
It seems like his training for the fight and jump scenes in his current ABS-CBN TV series 'Tiyagong Akyat' brought out the better in him. We'll continue watching you jump over those hoops… or even just swim through… Keep it up! 😉
[Photo credit: BotoMoIpatrolMo.Multiply.Com]