The well-publicized rescue effort of Richard Guttierez on Cristine Reyes' cry for help during the typhoon Ondoy also got an international attention, even making it to the New York Times.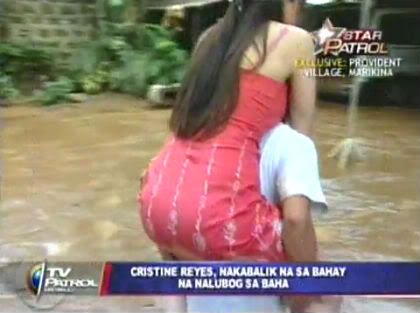 Here's an excerpt from the NYTimes report entitled "Filipino Actor Saves Real-Life Damsel in Distress:"
"A popular Philippine actress cried out for help from a rooftop as a tropical storm roared and floodwaters rose menacingly. Then an actor emerged from nowhere on a speedboat and swept her to safety.
"A romantic scene from a movie?
"No, it was the real-life travails of young actress Christine Reyes. Her rescue by movie and TV heartthrob Richard Gutierrez as Tropical Storm Ketsana raged across the northern Philippines was one of the happier moments of last weekend's disaster that left at least 140 dead and tens of thousands homeless."
Cristine was able to come back to her residence at Princeton St. Provident Village in Marikina a day after her cinematic rescue. She's safe and living with her sister Ara Mina. She has plans of getting a new house, though.
Some people take this as a publicity stunt altogether, but both Richard and Cristine denied it. It's true that they have a movie together, Patient X, showing later this October. But, that's too crazy if they're just making that up, right?
Note: The man in white shirt above is not Richard by the way… just one very lucky guy. 😉