Manny Pacquiao announced a couple of days ago that he'll be shifting media partners favoring ABS-CBN to air starting with upcoming Manny "Pacman" Paquiao Vs. Ricky Hatton, May 2nd match up. But, Manny is still under contract with Solar Sports regarding TV rights until 2011 that pave the way for a conflict.
Manny has reasoned that it was his personal decision and that no one has influenced him in anyway. Part of this was his previous sentiments against Solar Sports not paying him in full and at times delayed. Solar Sports took action by making a confrontation with Manny's MP Promotions in LA.
After much talk between the two parties, Manny Pacquiao's camp formally made a public apology due to public's confusion and announced that the contract between MP Promotions and Solar Sports as his media partner is completely valid and binding until 2011. Therefore, the upcoming fight between Pacquiao and Hatton will still be aired by Solar Sports and in partnership, also with GMA Network.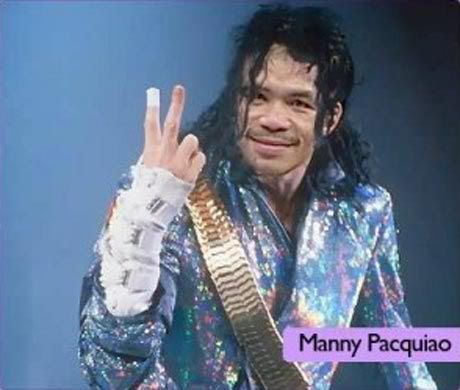 Manny Pacquiao also want the public to know that he's right now focusing his efforts practicing and preparing for his fight. He continually asks for everyone's support and prayers.
Touché! 😉
Thanks to Glenn's Blog for the last pic!