Charice Pempengco sings the U.S. National Anthem 'Star Spangled Banner' in front of 57,099 people at Los Angeles Dodgers opening day ceremony at Dodger Stadium, live last 13th of April, 2009.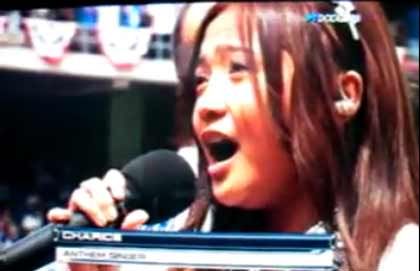 Charice was actually welcomed at the baseball diamond field as a 'phenomenal young teen whose singing has been worldwide fame and admiration' in the said ceremony where an American Citizen singer could have traditionally be at her place.
She may not sing our national anthem on Manny Pacquiao's bout against Ricky Hatton this coming May 2, but that doesn't mean Charice's globally acclaimed sensation would be tarnished just like that. Manny's reasons were just based on mere luck on the occasion, as they say. 😉
You can watch the video here. It's really quite moving and powerful.