Have you seen the Katrina Halili and Dr. Hayden Kho Scandal Video that's all over the internet lately? Well, actually it wasn't the 'sex video' that you would be interested to watch for. As JC Tiuseco would put it, better not to see it as a sign of respect for Kat. Though, it was just a sexy dance of the ex-couple in their undies.

If you happen to watch John "Sweet" Lapus' successful 16th anniversary celebration in showbiz, then you'll get a funny idea of what's in it. Spoofs aside, Katrina was pretty much torn with what she expected of the Belo-Hayden-Katrina controversy to have already ended, which all of a sudden got dugged up by the release of the 'sexy dance' video.
Katrina was interviewed at Startalk last weekend and was so emotional about it. She said that there would just be three or four people who may have these videos and somehow she just can't figure out their reason why did they do such a thing. It's unclear if they just want her to get out of showbiz for good or kinda get something from her in return of not exposing further the more sensitive and sensual videos… if there would be any.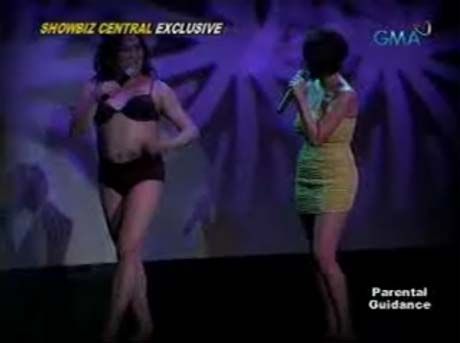 As of now, Katrina's 'still surviving…' and getting support from her friends to stay strong amidst all these. If being apologetic, learning the lessons from her mistakes and harnessing strength to move on is not enough for these people… then what else would they want from Katrina?
Anyway, the good thing about it is Katrina's doing just fine to stay away… but if the next video comes out… then we'll see… what's their next dance move. 😉
UPDATE: Just for those who wants to benefit from searching the net as you usually do searching online. It's fun to earn extra cash for what you do for free anyway. Just click here or the banner below.