Daiana Menezes covers Maxim Philippines June 2009 on its first Comedy Special issue. She's out to tickle your funny bones here guys!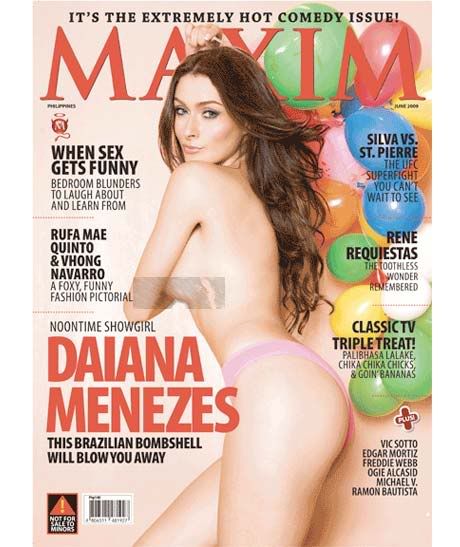 Daiana's a Brazilian model and the regular sexy-comic attraction on Eat Bulaga and Bitoy's Funniest Home Videos. We just don't know if she's the one on the Dr. Hayden Kho – Brazilian model sex video scandal that's all over internet. Who knows, she's a Brazilian hottie and who doesn't want her to go naked and get her to bed? So much on tickling whatever bones you got there. Maxim's here to provide some aid, alright?
On the inside, the mag pays tribute to three of the funniest shows ever seen on Philippine TV namely Goin' Bananas, Palibhasa Lalake, and Chicks to Chicks / Chika Chika Chicks backed-up with candid interviews with Edgar Mortiz and Freddie Webb. They also got you Vhong Navarro and Rufa Mae Quinto doing a hilarious Kid Rock/Pamela Anderson fashion spread.
And of course, there'll be more girls like the Turkish sensation Natalin, Canada's answer to Barbie Megan Lynn, the voluptuous Jackie Inoferio and the registered nurse Christine Marquez. So what are you waiting for, grab one copy now! 😉