Starstruck Season 2's First Princess, LJ Reyes is taking a sexy lift with her golden wings spread out on the cover of FHM Philippines this December 2009.
LJ has her biggest break in playing her first villain role in Zaido: Pulis Pangkalawakan. Another would be her casting with Sine Novela: Una Kang Naging Akin [...]
Agot Isidro's Fashion Comeback at 43! is on the cover of Preview fashion magazine this December 2009.
Agot really has the seductive eyes and an alluring body in here that somehow gave a resemblance on Angelina Jolie's character in Beowulf… though, she's in green tight laces.
So what else is on the cover?
Ageless Style: [...]
Young star Maja Salvador of 'Nagsimula sa Puso,' graces the cover of Cosmopolitan Philippines December 2009 issue. Such a sweet face for a holiday on another glitz and glam season.
Maja's talking here about family ties, the happy single life and hot love scenes. Also, Cosmo's getting you educated on How to be Famous… transforming [...]
Smoldering Avi Siwa's getting the barber's seat smokin' hot on UNO Magazine November 2009 cover.
Avi actually starred in a hot 'sex scandal caught on video' flick Co-Ed Scandal where she played on lesbian love scenes with another barely legal Jennifer Lee. She also used to host the gays, bisexuals and lesbians tv show 'Out'. [...]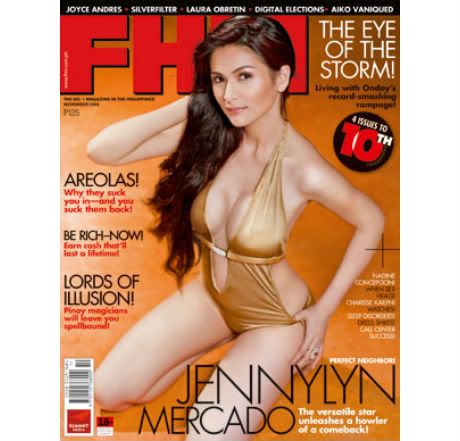 FHM Philippines sets their cover sizzling hot with Jennylyn Mercado this November 2009.
Jennylyn's gracing their cover the second time around, with her first last January 2008. Now, she takes on the cover as 'The Versatile Star Unleashes a howler of a comeback!' FHM also adds some features on Areolas! Why they suck you in [...]