ABS-CBN's Pinoy Bingo Night will be having the Home Viewer Game for their TV viewers all over the country. It's like having a home-partner for the game shows but this one's going to be different because you'll be playing as well right at the convenience of your home for a total of P200 Thousand every night!
Starting April 13, you can join the Home Viewer Game by exchanging sachets, bottles, labels or packaging of Sunsilk, Creamsilk, Vaseline, Rexona, Surf, Knorr Cubes, CDO Karne Norte and Goldilocks products and items for Bingo Cards to redemption centers in ABS-CBN, Robinson's Supermarket, Robinson's Department Stores and Mini Stops.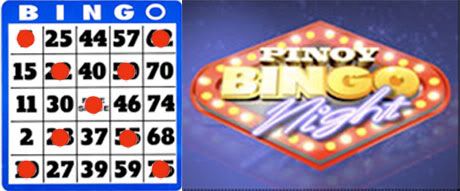 Every night, Pinoy Bingo Night will be flashing 20 numbers on screen and those who have an X-pattern as shown on the picture above will be winning P150 Thousand. Another P50 Thousand will be given away for a lucky home viewer Bingo Card holder that will be drawn as a Bonus Raffle.
ABS-CBN has launched the Pinoy Bingo Night last March 30 and luckily came out also of their first Millionaire, Vhong Navarro. Kris Aquino will be with 402 studio contestants every night to contend for a total of P2 Million Grand Prize.
For those who wants not just to be a Home Viewer Game player and wish to join and have the chance to become a studio contestant. You can either text as described below or register online by clicking here.
Text PBN (last name,first name/age/gender/address) and send to 2366
Ex. PBN ferrer,andrei/29/male/4 Apo St, Proj 4, QC
P2.50/txt for Globe, TM, Smart,Talk and Text
P2/txt for Sun Cellular
UPDATE 1: Here's the Complete List of Products and equivalent number of pieces you can exchange for Pinoy Bingo Night Home Viewer Game Cards. Just click the link and you can both see the PBN Redemption Scheme and the Redemption Centers you can go to that is nearest to your home.
UPDATE 2: This is a link to a site that posts the latest PBN Home Viewer Game Results (20 Winning Numbers Daily)
UPDATE 3:
HOW TO WIN THE DAILY PRIZE OF P150,000
Home Viewers just have to complete the X-pattern in a single game card to win. All of those having the winning cards (with completed X-pattern) will share equally the daily prize of One Hundred Fifty Thousand (P150,000).The Daily Prize can be won more than once.
HOW TO WIN THE BONUS PRIZE OF P50,000
Aside from winning the Daily Prize as completing the X-pattern in a particular PBN Episode, these HomeViewers are also qualified to join the Raffle for the Bonus Prize of Fifty Thousand Pesos (P50,000) on the said episode. Each one has to be able to send valid SMS Entries within a set time period. Below are the regulations that will be followed:
1. Text Messaging Operations – The text messaging service is under the management of ABS-CBN Interactive (ABSi).
2. SMS Entries – To be able to join the Bonus Prize Raffle, the valid (accepted) SMS text message entries are: BINGOAKO <serial number> <complete name/age/gender/address> to 2366.
Ex. BINGOAKO 12345678 Joanne dela Cruz/24/F/4 Times St. QC
Each text costs P2.50 (Globe and Smart) and P2.00 (Sun).
3. SMS Entry Period – An SMS Entry will just be considered valid and accepted if it was received by the ABSi from 6:30pm until 11:59pm of the said telecast of the particular PBN Episode. If there would be any dispute or disagreement about the time the SMS text messages were Sent, the Receipt Time Stamp of the ABSi server will be used as the basis, and will be treated as final and official.
BONUS PRIZE RAFFLE
One (1) winner of P50,000 will be drawn every PBN Episode using an electronic raffle from the database of instant prize winners having valid SMS Registration. Instant Prize Winners that are from the previous day will not included in the Raffle of the present Episode (meaning you can be drawn for the Bonus Prize only on the same the day of the PBN Episode you won the Instant Prize).
PBN Bonus Prize Raffle draws will be every Monday till Friday, beginning April 21, 2009, 12:00nn at the ABS-CBN Interactive Office, 9F Eugenio Lopez Jr. Communications Center, Mother Ignacia Ave., South triangle, Quezon City.
The names of the Bonus Prize winners will be announced on the nearest telecast date of Pinoy Bingo Night after the raffle draw. PBN Bonus Prize can also be won more than once.
Bonus Prize Rollover – In case that there were no valid SMS Entries for any particular PBN Episode, then the database won't be having any drawn raffle winner. The Bonus Prize will be rolled over or will be added on the next day. This rollover continues until there will be valid SMS registrant/s and winner of the accumulated Bonus Prize. If in case that the rollover continues till the last Pinoy Bingo Night Episode with the Home Game Segment, the Bonus Prize Raffle will be drawn out from the whole database of valid SMS Entries/Registrants.
UPDATE 4:
Notification of Winners and Claiming of Prizes
If you have registered a valid text entry of your winning PBN game cards (see UPDATE 3), ABSi will send to you a notification via registered mail and will call through an authorized ABSi representative starting a (1) week after the telecast of the winning episode. (NOTE: There will be no text messages that will be sent to you if you won)
However, if you haven't able to register your winning card on the day (till 11:59pm only) of the telecast of the winning episode, you can still claim your prize up to sixty (60) days after the last day of the promo period (August 18, 2009). (Note: You only win here the daily shared prize of P150,000. To have a chance to win the Bonus Prize of P50,000, then you'll have to send a valid text entry as described above)
You can call PBN Hotline or you can visit ABSi Office or the nearest ABS-CBN TV or radio station to ask more info regarding the claiming process.
PBN Hotline: 415-8766
ABSi Office
9F Eugenio Lopez Jr. Communications Center,
Mother Ignacia Avenue, South Triangle, Quezon City
Requirements or things to bring to claim your prize from an authorized ABSi representative:
•    Your Winning Pinoy Bingo Night Game Card
•    One (1) valid ID (SSS, Driver's license, etc.)
•    Photocopy of one (1) of the following documents: birth certificate, marriage contract, passport, SSS, driver's license, etc.
•    For those who have sent a valid text entry: Original printout of the registered mail notice from ABSi and registration acknowledgement text from ABSi
•    If you're of minor age, a parent or a legal guardian should accompany you and should bring with them their valid ID and photocopy of documents as described above.
UPDATE: Just for those who wants to benefit from searching the net as you usually do searching online. It's fun to earn extra cash for what you do for free anyway. Just click here or the banner below.